About Sunrise Rafting
Sunrise Rafting is a family run and owned company, that has been leading trips on the Klamath River for over 20 years.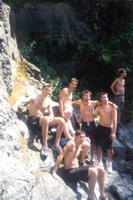 Sunrise Rafting was founded by Dennis Fleming, who still runs the company today with help from his two sons.
Our goal as a company is to provide an excellent rafting experience at an affordable price.
Our trips combine the thrill of whitewater rafting with the relaxation that the scenic river canyon provides.
Sunrise Rafting operates under a permit from the US Forest Service.
Sunrise Rafting is an equal opportunity employer and does not discriminate on the basis of race, creed, religion, or gender.