About the Klamath River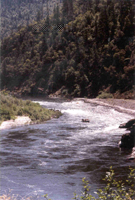 The Klamath River is one of California's wild and scenic rivers and is part of Six River National Forest.It is located off highway 96 just south of the Oregon border.
The Klamath serves as a natural environment for an array of wildlife including Bald Eagles, River Otters, Turtles, River Martins, Great Blue Herons, Osprey and many species of fish including Salmon and Steelhead.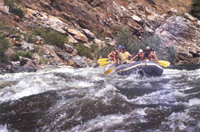 The water temperature tends to be some of the warmest river water in the state at around 70 degrees, providing lots of opportunities for swimming and playing in the water.
Sunrise Rafting operates under a permit from the US Forest Service.
Sunrise Rafting is a non-discriminatory company and does not discriminate on the basis of race, creed, religion, or gender.