Upcoming Trips and Information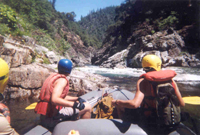 We will be offering trips from the beginning of June until Mid-July for 2008. Please contact us to let us know your preferences for trip dates.
The price for a three day trip is $250 for adults and $225 for children and students. Extra days can be added for $50 per person. We offer discounts for groups of six or larger as well.
Included in the price is all rafting equipment needed on the trip, friendly and knowledgeable guides, all permit and insurance fees and all camping fees as well.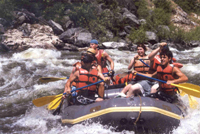 In order to keep trip prices as low as possible Sunrise Rafting arranges a shared meal plan with each person preparing one or two meals throughout the trip. We do provide the option of preparing your meals for you for an additional.
Sunrise Rafting is an environmentally friendly company, we wash and reuse all of our dishes and throw away all of our waste.
Sunrise Rafting operates under a permit from the US Forest Service.
Sunrise Rafting is a non-discriminatory company and does not discriminate on the basis of race, creed, religion, or gender.