Welcome to Sunrise Rafting!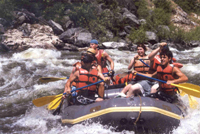 Sunrise Rafting invites you to join us this summer on our expeditions down the wild and scenic Klamath River.
Our exciting adventure includes the thrill of white water rafting, hiking along beautiful side canyons, swimming in crystal clear swimming holes and camping along the river banks.
We will be offering trips from the beginning of June until mid-July for 2008. Please see our upcoming trips page for specific dates.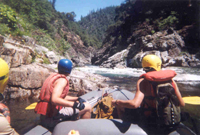 Sunrise Rafting is a family owned and operated business, where fun and appreciation of nature are our top priorities. Please feel free to learn more about us and our company.
Addtionally, you can learn more about the beautiful and breathtaking Klamath River our trips make use of in our river information area.
If you are already joining us on one of our exciting trips, be sure to check out our page on what to bring so that you can have the best experience possible.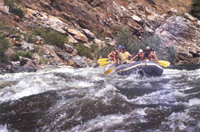 Once you have decided to join us, please sign up for one of our summer rafting trips.
If you would like more information or have any additional questions, feel free to email us at info@sunriserafting.com.
We look forward to you joining us on the river!